If you're looking to backup your 7 Days to Die world, move it to a different computer, or change a setting manually, you're going to need to know the folder that the save files are located in. The question you are now asking yourself is "Hmm.. where are 7DTD save files located?", you're in luck, because this article is going to tell you.
The folder that 7DTD games are saved to varies based on your operating system, use one of the links below to quickly jump to yours:
Save Location on Windows
---
To find your game saves on Windows, open up a Folder / File Explorer window and type %appdata% into the address bar like so: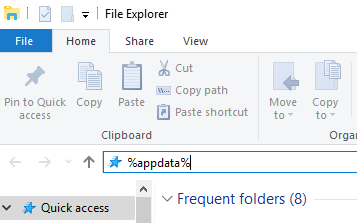 Then go to following folder:
7DaysToDie > Saves
And that's it! You're now in your 7 Days to Die save folder.
Save Location on Mac
---
As Mac hides certain folders, it's a little trickier to find your save than on Windows, but still relatively easy. First, open up a Finder window, then open the "Go" dropdown at the top of your screen, then click "Home".
Then, hit "Go" again and click "Go to Folder...", enter "Library" (without quotes) in the box that opens and hit Go. Then, go to the "Application Support" folder, and in there you can find the "7DaysToDie" folder.
Save Location on Linux
---
If you're using Linux, you can find your saves at:
Your User Directory > .local > share > 7DaysToDie
---
We hope this guide was helpful. If you're looking for 7 Days to Die console commands, check out this page.