1. Installing Cheat Engine and Downloading the DS3 Cheat Table
---
Before anything, you'll need to make sure you have Cheat Engine (the latest version) installed, and the cheat table that's used with Cheat Engine and DS3 downloaded:
If you've managed install Cheat Engine and download the tables yourself, you can skip ahead to 2. If not, click here to download Cheat Engine. After downloading, open it up, you may receive a message that says "Do you want to allow this app to make changes to your device?", click "Yes". Then (if you agree with the license agreement) click "I accept the agreement" and press Next. Then, press Next again if you are happy with the default install location. Then, on "Select Start Menu Folder", press Next again. Select whether you want a desktop icon and whether you want Cheat Engine to check for new versions, then press Next. If you are then asked if you want to install Avast Antivirus, untick the box and press Next. And finally, press Install, and then after it's done installing, Next and Finish!
To download the table, simply click here, and then save it in a place that you can remember (you'll need it later on)!
2. Using Cheat Engine
---
Now we've downloaded and installed everything, we're ready for the fun stuff. Start Dark Souls 3, and then open Cheat Engine.
Whilst there is no VAC (Valve Anti-Cheat) for DS3, using Cheat Engine online (multiplayer) will result in soft bans! Soft bans limit your online play to servers with other soft banned players - these bans are also commonly called "shadow bans". The only way to avoid soft bans is by not using Cheat Engine. You can reduce your risk by only playing offline - there is a guide on how to avoid soft bans at the bottom of this page, but bear in mind there is still risk of a soft ban.
If you're playing Dark Souls 3 in fullscreen, you can minimize the game by pressing the Windows key on your keyboard (next to CTRL) - we recommend that you play in windowed mode while using CE for convenience.
With Cheat Engine now open, click the Open symbol under File, select the table that you downloaded, and press open: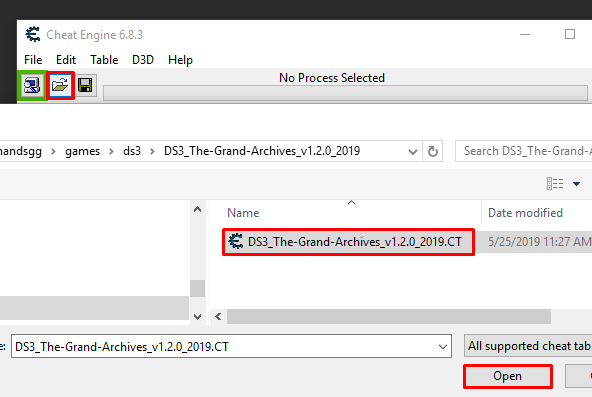 After opening the table, select the Dark Souls 3 prcoess by clicking the find process button (under File), selecting Dark Souls III, and then pressing Open: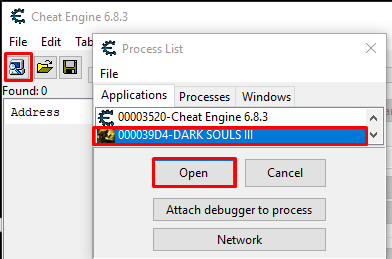 With the Cheat Engine Table open, check "Open - Table v1.2.0 - Game v1.15", then check "Helpers", and then Check "Item Gib":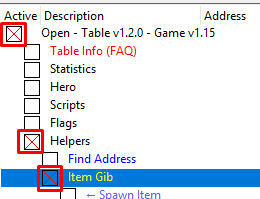 To spawn an item, you'll need an item ID. We have a searchable list of every item ID in the game, which can be found here, but as an example for this guide, we'll be using the item ID for a Shortsword, which is 001E8480.
With Item Gib open, double click the "Item ID (Hex)" field - you need to double click the item code in the "Value" column to change it (highlighted below), not check the box. A small window should then pop up asking you what to change this to. For a Shortsword, enter 001E8480 here, but you can replace this with any item ID if you wish to spawn another item. Then press "OK", and check the "Spawn Item" box in the table:

After doing the above, the item you wish to spawn should be on the floor in-game. This was probably a lot easier than you thought it'd be!