The Forest has over 100 console commands - if you've already completed the game, or are getting bored of regular gameplay, it's a great way to make things more interesting!
The console is simply a text box that you type commands (also known as cheat codes) into. These commands can do things like spawn items, kill enemies, spawn buildings, and even give you unlimited logs. To enable the console you must do the following:
Go to Options, click Gameplay, and set Allow Cheats to ON, as illustrated in this image: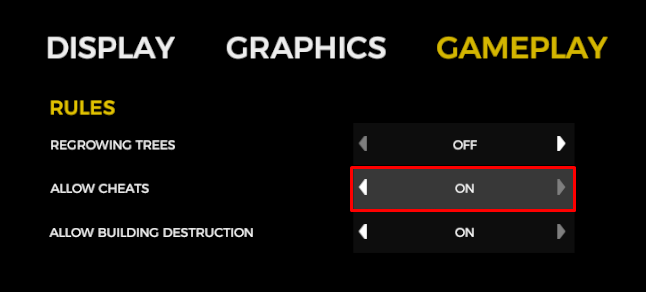 The allow cheats setting in The Forest set to on.
Go to the Main Menu, and type developermodeon - nothing will appear on the screen, but this will enable "Developer Mode", which grants you access to the console.
After doing the above, you can use the following hotkeys to operate the console:
F1

opens and closes the console. It appears as a small text box in the top left hand corner of your screen.
After typing a command into your console,

ENTER

will run it.

F2

opens and closes the console log. The console log shows text and messages that are sent by commands. This can be useful in working out why a command isn't working - e.g. if you are spelling a command wrong it will output a message telling you that the command is unknown.

F3

opens and closes the player stats menu. This shows stats such as your athleticism, calories and weight. It is pictured below.
The

UP

and

DOWN

arrow keys on your keyboard will cycle through the commands you have previously used (up to go back to past command, down to go next command).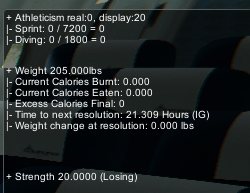 The player stats menu, which can be opened by pressing F3.
---
For a list of commands, check out our The Forest cheats list page. For more guides like this one, check out our blog.